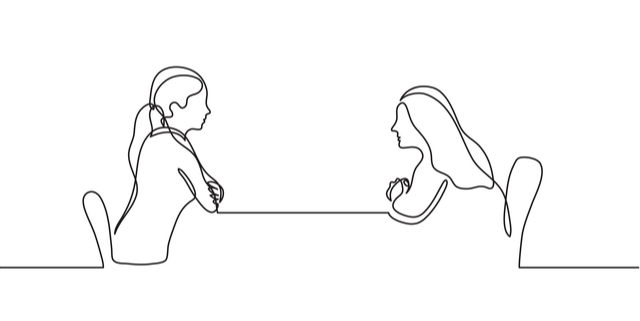 Last week I saw a friend for coffee that I hadn't seen in, well, far too many years. Our professions had brought us together very early in my career and then, as often happens, life kept moving each of us forward and the natural opportunities we had to cross paths dwindled.
But last week, we got together. We actually sat across from one another in a quiet little café away from our Zoom boxes and our devices to just connect and catch up. As I hoped—but hadn't expected—it felt like not a day had passed since we had seen each other last. We laughed about how good it felt to be together, albeit still with masks in close range, and how that experience of being together just cannot be replicated through technology, no matter how good the connection speed.
It's good to be here
It's good to be anywhere
It's good to be back
Good to be home again
It's good to be you
It's good to be me
Good to be young
Good to be old
Good to be home again
In that moment, I found myself thinking about how much has been lost in these last few years, and how much—as Keb' Mo' reminds us in "Good To Be (Home Again)"— is worth getting back. Many of us won't be returning to traditional workspaces, and if we do, it surely won't be as it was before. Settling into our remote offices means that in most cases, we have far fewer opportunities to be in community with our peers. But that's only if we make it so.
My friend noted that she has intentionally scheduled in-person connects with colleagues that she hasn't seen in a few years to rekindle some of those relationships. And having been on the receiving end of her initiative, I can vouch for its effectiveness. Yes, it's good to be together. And it's about time that we step away from our devices to make it happen.
Have a listen to Keb' Mo's new song "Good To Be (Home Again)", and see who from your distant past comes to mind. Make this the day you reach back out to them.
This is week 8 of the Finding The Words column, a new series published every Wednesday that delivers a dose of communication insights direct to your inbox. If you like what you read, we hope you'll subscribe  to ensure you receive this each week.
https://mission.partners/wp-content/uploads/2022/02/shutterstock_1799815531.jpg
360
640
Carrie Fox
https://mission.partners/wp-content/uploads/2017/11/mp-logo-dark-300x107.png
Carrie Fox
2022-02-23 16:09:43
2022-02-23 16:23:35
Good to Be…