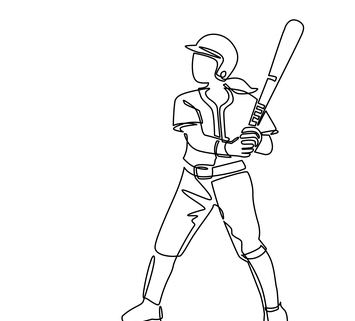 The year was 1952. The Boston Braves had just purchased the Negro League contract of Hank Aaron from the Indianapolis Clowns. A game-changing moment in American baseball and civil rights that would lead to his remarkable 23-year career and cement his name among baseball's greatest all-time players. But his call-up to MLB didn't just set the stage for his own game-changing moments. It opened the doors for other game-changing moments, too.
A second baseman named Toni Stone was tapped to take Aaron's place on the Clowns' roster. In the process, she—yes, she— became the first woman to play baseball on a big-league team.
Game changer.
I learned of Stone's story from my 8-year-old daughter—a fierce and focused kid who's at her happiest when playing baseball. This past season, she was the only girl among hundreds of boys in her Little League Division. And while I had trepidations, she seemingly had none. Just as her season was starting, she learned of Toni Stone's story, and dug in.
Toni Stone was born Marcenia Lyle Stone in 1921 and started playing baseball as a girl on boys teams near her childhood home in St. Paul, Minnesota. She continued playing on various amateur, minor league and barnstorming teams through the early 1950s. As Jason Owens wrote in Yahoo, "…not welcome in the all-white All-American Girls Professional Baseball League made famous in A League of Their Own, Stone instead sought to break into the professional ranks among men."
Game changer.
Her story has recently taken on the headlines, with documentaries, books, and an off-Broadway musical that is making sure her name doesn't become a footnote in history. Her story is also re-emerging just as the movement for women's baseball heats back up. Just last month, 23-year old Kelsie Whitmore followed Stone's footprints, becoming the first woman to start in an Atlantic League Professional Baseball (ALPB) game. Suiting up with the Staten Island FerryHawks, Whitmore has already gained the attention and support of MLB commissioner, and she's set the stage, once again, for baseball history.
The convergence of Toni Stone and Kelsie Whitmore's stories: two powerful women, at the top of their field in a male-dominated game, is a powerful reminder that in baseball and life, we are surrounded by possible game-changing moments.  A door seemingly closed today doesn't mean a door closed for good. Remarkable things can happen when we push on those closed doors and reach just beyond the boundaries of what we believe is possible.
This past weekend, our family traveled to Minnesota so that Kate could participate in the first-ever all-girls baseball clinic on Toni Stone field.
Game changer.
She met professional women athletes who are running after their baseball dreams, and young girls just like her who simply love the sport. And regardless of where she goes from here, that experience was a poignant reminder of what's possible when you run after the things you love—even if you feel alone along the way.
And that, for me, was the real game changer.
This is week 24 of the Finding The Words column, a series published every Wednesday that delivers a dose of communication insights direct to your inbox. If you like what you read, we hope you'll subscribe to ensure you receive this each week.
https://mission.partners/wp-content/uploads/2022/06/shutterstock_2074206206-e1655300993420.jpg
360
355
Carrie Fox
https://mission.partners/wp-content/uploads/2017/11/mp-logo-dark-300x107.png
Carrie Fox
2022-06-15 09:54:54
2022-06-15 09:55:31
Change the Game.