20 Years After 9/11: Still Finding Purpose in the Spirit of Service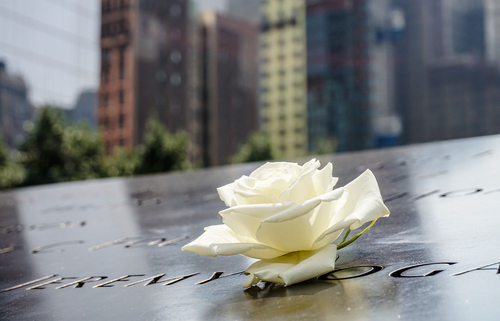 As first published in B The Change
Twenty years ago this week, I was on my way to work at Ripken Baseball — a clear, crisp and beautifully calm September morning. It was early in my career. I was 22 and just months earlier, I had graduated from Loyola University and landed what most people agreed was a dream job. That day, I remember pausing before getting in my car, looking at that blue sky and feeling a sense of optimism.
Only moments later, I heard news of a plane flying into the North Tower of New York City's World Trade Center. For the next several hours, my colleagues and I watched the events of September 11, 2001, unfold, huddled together, and glued to a small television in the office, feeling hopeless while trying to connect with the people I loved, many of whom I knew were on their way to the Twin Towers that morning.
Having grown up a stone's throw from New York City, the events of 9/11 were defining for me. The vivid images from that day, the stories that emerged, and the numbness I felt experiencing it all unfold are still seared in my mind.
I do what I do now in large part because of that day. Like many people who experienced it and the weeks that followed, I yearn for the spirit of unity after 9/11.
Acting for Justice and Equity
Mission Partners, as a woman-owned social impact firm and Certified B Corporation, is a direct outcome of that time and the spirit of unity that came with it. Through our work, we use communications to bridge differences, to name and address injustice, and to act in the spirit of service with communities for more just and equitable outcomes. And now as the mother of two girls, watching the events unfold in Afghanistan, with women and children increasingly bearing the brunt of the violence and making up around half of all civilian casualties, I feel the same call to service: the same draw to work together, across divides, in that unified spirit that carried us through those late days of 2001, 20 years ago.
But here's the problem: We live in divisive times, and that divisiveness often gets in the way of seeing what's around us and in front of us. It has become too easy to say what's wrong, and then momentum is lost and folks feel unsure how to come together to address difficult issues.
Despite our differences, I continue to believe in the power of coming together for good. I believe deeply that when diverse groups come together to support and defend communities under threat, our democracy in fact grows stronger, people are safer, and we find the best of ourselves as humans.
I am deeply humbled and proud of the work the Mission Partners team has been able to do in support of the Democracy Fund, Points of Light, UpTogether, JustFund and so many others who inherently believe this too, and of the missions we've been able to move forward, together.
An Era of Collective Impact
It's why Mission Partners recognizes September 11 as a company-wide day of service, just as we do on Juneteenth and Martin Luther King Jr. Day. We chose those days because they represent both the best and the worst of the American story, and they give us reason to pause, to learn, to share, to grow, and to show up — at our best, beside one another, in the spirit of service.
I may be an optimist, but I do believe that the values we share, across cultures and continents, across race and gender, are more powerful than the issues that divide us. I continue to believe that people want to be a part of something that makes the world better, particularly their corner of it. And so, during this coming day of service at Mission Partners, we will gather, this time virtually, to learn and cultivate new ideas for service, to discuss the challenges we all face, and work together to define our role as stewards of service and justice in our communities.
Good can happen wherever we let it — if we let it.
It starts by thinking: What does the world need, what skills do we have, and what we can do together? Like the group of returning Iraq and Afghanistan veterans in Baltimore who, in 2009, started brainstorming how they could apply their military skills and experience to make a difference in their community. The next year, they founded The 6th Branch, a veteran led neighbor led community service organization, which turns vacant and abandoned properties into community green spaces.
Twenty years has passed since that crisp blue-sky day, and I am as committed as ever to the spirit of service that first drove me to this work. But that does not mean service needs to look the same as it did 20 years ago.
The days of corporate social responsibility— when a community's dominant companies would choose a cause and suggest thy their employees follow the suit of the executive team —are long behind us. As we enter the era of corporate social justice, it's time to go beyond days of service that are pre-defined company volunteering activities to a redefined era of collective impact, inspired and buoyed across the team, and designed in partnership with the community.
At Mission Partners, that commitment to service shows up in many ways: community volunteering, monthly learning labs, sabbatical time, paid time off to vote and participate in elections, and our collective commitment to skills-based volunteering. I'm especially proud that we are nearly at our goal of delivering $100,000 in skills-based pro bono services to Black-led organizations in 2021 — double the number we had set at the start of the year.
The reality is that service isn't something we turn on and off. It's a way of life, a commitment, and a drive to be there, for and with one another. Yes, we live in divisive times, and the weight of this world can often feel impossible to bear — some much more than others. But if we start where we are, good can always take hold. As my late father-in-law Bob Fox often said, "Help people. Be a good person. In the end, nothing else matters."
https://mission.partners/wp-content/uploads/2021/09/shutterstock_559855354-1.jpg
334
500
Carrie Fox
https://mission.partners/wp-content/uploads/2017/11/mp-logo-dark-300x107.png
Carrie Fox
2021-09-09 11:41:49
2022-03-23 11:16:33
20 Years After 9/11: Still Finding Purpose in the Spirit of Service