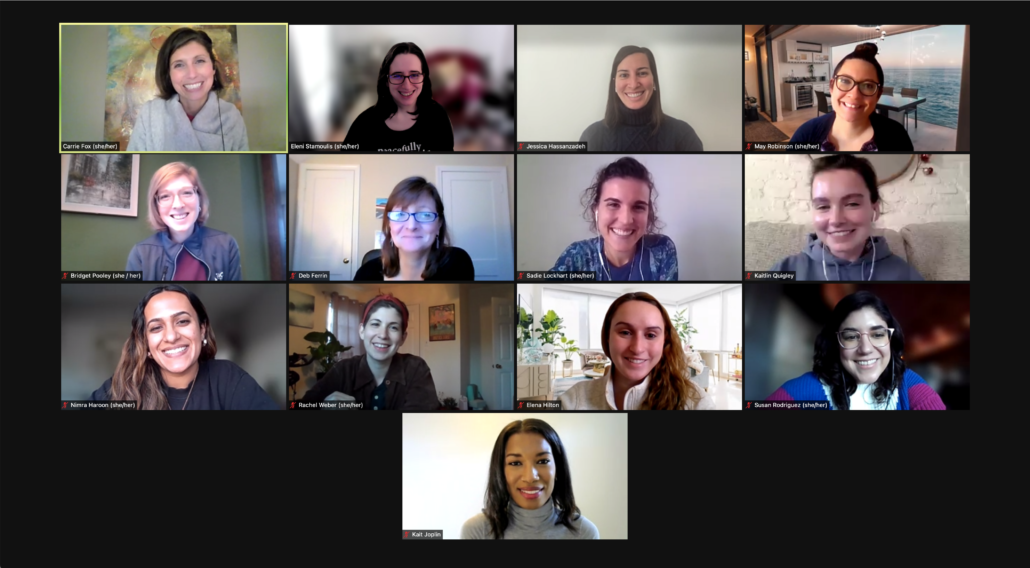 Thanks for your interest in joining Mission Partners. We are a woman-owned and led social impact communications firm based in Rockville, MD, and operating virtually from across the U.S. We are passionate, creative, invested, and curious. And we believe that together, we can leave the world a better place than we found it. We guide purpose-driven organizations forward through a comprehensive mix of strategic communications and planning services—harnessing the power of communications to build more informed, connected, and empathetic leaders and organizations.
If you're interested in advancing social change through smart and strategic communications, we'd love to meet you. .
We're not currently hiring for any positions, but we're always interested in connecting with anyone interested in our work or joining the team. Curious to learn more? Drop us a line.
---
What It Means to Work at Mission Partners
We are a team of communicators and strategists who believe passionately in the power of communications to advance social justice. We embrace excellence in everything we do and measure our success collectively—never independently. 

We are more than just coworkers—we are colleagues and friends who share great respect for one another.

We hold ourselves and each other to the highest ethical standards. We are fair and honest, and act with the best intentions when advancing our clients' issues. 

We value and celebrate leadership at all levels and follow neither a top-down nor a bottom-up approach.

We maintain a positive, inclusive, respectful, and flexible work environment that will always put people first.

We are motivated by the remarkable, innovative, and passionate people we proudly call our clients, peers, and mentors—they inspire us every day.
About Mission Partners
Mission Partners guides purpose-driven organizations in realizing their greatest social impact. We provide strategic planning, visioning, and communications services for purpose driven organizations—often during critical moments of transition—that ensure growth, stability, and differentiation in crowded markets. In the past decade, we've counseled hundreds of foundations, nonprofit organizations, and social impact organizations as well as the partners who fund and support their work. We've helped organizations refine their strategies, increase their impact and amplify their stories. We track and measure progress every step of the way. And we regularly invest our own dollars and time back into the clients we represent. All because we know that every bit we can do to share and strengthen a powerful idea will leave this place, a better place.
As a Certified B Corporation, we pledge to foster a radically inclusive and richly regenerative economy. Our company voluntarily invests in meeting significantly higher standards of sustainability, governance and giving back to the community in our daily operations. At Mission Partners, we believe business is a force for good and we are committed to providing an environment of mutual respect for all employees and partners. We believe the more inclusive we are, the better our work will be. Read our latest social impact report here.
Our Values
We value people first. We are more than what happens during our office hours. We are human first, and we strive to show a deep respect for every person inside and outside our company. We know that company culture matters, and we strive to create an environment in which our team can thrive as people and as professionals. ​
We value integrity and excellence. We are honest, open, ethical, and fair. People trust us to adhere to our word, and we work hard to earn and maintain that trust. We always bring our best—to our work, our clients, and to each other.​
We value courageous leadership. We act with courage, challenge the status quo, and find new ways to drive impact and equity, grow our company and each other. ​
We value strategic thinking and thoughtful execution. We are not just seasoned consultants; we are experienced doers and collaborators. We understand the value of thoughtful analysis, clear rationale, and contextual communications in moving from ideas to implementation. ​
We value continuous learning and growth. We are a dynamic team, continuously learning, innovating, and improving. We seek first to understand and apply what we learn to evolve and improve our work.
Mission Partners' Public Benefit Statement
To produce a positive effect for communities and their residents by creating more informed, effective, and connected mission-driven leaders. By doing so, Mission Partners believes that it challenges long-held assumptions, elevates fresh thinking, and uncovers the hidden potential of people that together, lead to a more equitable future for all.
Mission Partners' Commitment to Diversity, Inclusion and Equity
Mission Partners is an equal opportunity employer. We are committed to building a team that represents a variety of backgrounds, perspectives, and skills. We celebrate diversity and are committed to creating an inclusive environment for all employees.