The Universities at Shady Grove

Opening the Doors to Our Future
On November 7, 2019, the Universities at Shady Grove (USG) welcomed more than 600 people to its Maryland campus to celebrate the opening of a fourth academic building—a $175M Biomedical Sciences and Engineering Education Facility, known as the BSE.
The grand opening event kicked off with a luncheon and program, featuring the presidents of three partner universities: University of Maryland, Baltimore; University of Maryland, College Park; and UMBC. Following the luncheon, guests gathered in the atrium of the BSE to hear from speakers—including Governor Larry Hogan—and to celebrate the official ribbon cutting of the building. After the ceremony, guests explored the building and participated in a Science, Technology, Engineering, Mathematics, and Medical (STEMM) Showcase, which brought aspects of the building to life with displays from 14 academic programs and eight industry partners. Students and staff were stationed throughout the BSE to serve as interpretive guides for guests. The event exceeded the set attendance goal by 20%.
As a long time, invested partner in Universities at Shady Grove, Mission Partners previously supported USG on the groundbreaking ceremony for the building and managed complexities of project management, communication, and media support for this critical moment in the organization's history, and future. The event boasted a strong print and broadcast showing—eleven onsite media teams—and coverage of the event garnered more than 7.8M impressions from 13 news stories, including two consecutive days of coverage in The Washington Post with an op-ed and feature piece on the front page of The Washington Post's Metro section.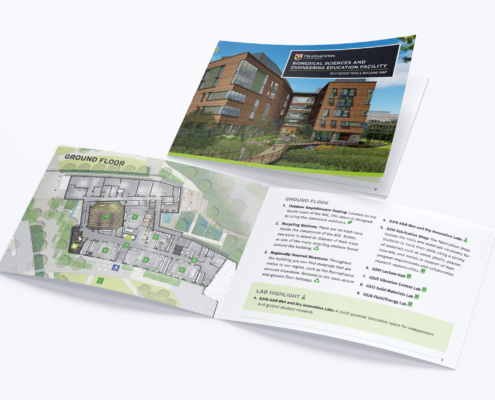 A Public Campaign for Students to See Success for Themselves
The Universities at Shady Grove (USG) has been a presence in Montgomery County since 2000 when it first opened its doors, becoming the only four-year institution in what is still the wealthiest and most diverse county in Maryland. However, by 2017, community members and local leaders still didn't understand what USG was or how it worked, and the brand felt tired instead of innovative. In January 2018, USG unveiled a new, refreshed brand in conjunction with its first ever integrated marketing campaign, titled the Power of 9. Mission Partners led the conception and development of the campaign content and messaging, ensuring that all materials were in line with and supportive of the new brand.
The 8-week campaign was built around Alumni stories, and featured a poster series, blog and social media content, digital advertising, video compilations, transit advertising, and an events series. When the campaign concluded, Mission Partners conducted research to better understand how various stakeholder groups perceived the campaign and brand. We conducted classroom drop-ins to deploy written surveys to students; phone interviews were held with Board members to gather their feedback from a leadership, business, and community perspective; and we met one-on-one with members of different USG departments to learn how the messaging or brand had impacted their departmental priorities. 
The campaign resulted in more than 1.7M static ad impressions, 536K Facebook ad impressions, and 69K video ad impressions, record breaking event attendance, and dozens of new development relationships for USG.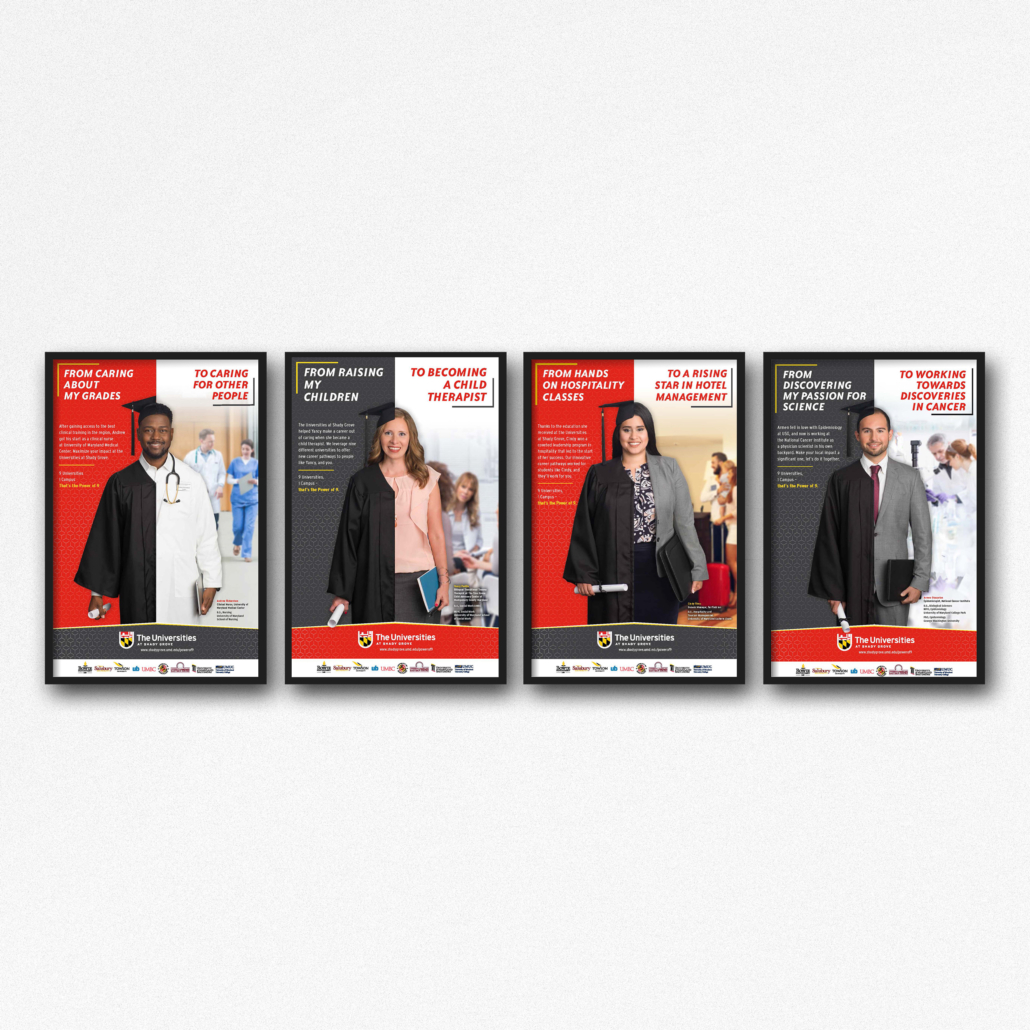 https://mission.partners/wp-content/uploads/2020/05/USG-Ribbon.jpg
630
1200
Eleni Stamoulis
https://mission.partners/wp-content/uploads/2017/11/mp-logo-dark-300x107.png
Eleni Stamoulis
2020-05-04 10:34:55
2022-03-09 17:27:36
The Universities at Shady Grove