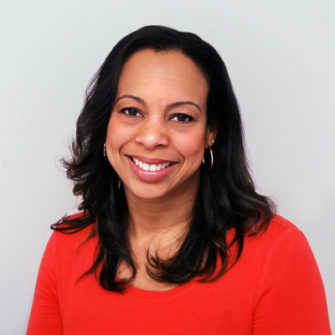 Nicole Cozier
Director of Diversity and Inclusion, Human Rights Campaign
Nicole Cozier has nearly 20 years of non-profit experience in the direct service, advocacy and philanthropic sectors.
In February 2016, Nicole Cozier joined the staff of the Human Rights Campaign as the Director of Diversity and Inclusion – a position that she describes as a perfect culmination of her experience and her passion for work with deep personal significance. In this role, Nicole is responsible for managing the D&I team and designing and implementing diversity and inclusion strategy and initiatives that translate D&I philosophy into core organizational practice.
Most of Nicole's career has been focused on gender equity; however, in the words of Audre Lorde – "there is no such thing as a single-issue struggle, because we do not live single-issue lives," so one cannot effectively gender issues without also examining how gender intersects with race, class, sexual orientation, age, and the myriad other identities that influence people's experiences and opportunities. As a result, the consciousness and lens of diversity, inclusion and cultural competency has always been an important element of her work.
Nicole began her career in women's health and reproductive health and rights for organizations including Planned Parenthood – in Toronto, Canada, and Philadelphia, Pennsylvania – Cooper Health System in Camden, New Jersey, with an array of roles focusing on research, public and professional education, and counseling. Upon moving to Washington, D.C. in 1999, Nicole worked for the Ovarian Cancer National Alliance where she led a national public education campaign – which included cultural competency work with member organizations across the country – and organizational development. She also served on the Scientific Advisory Committee for the Mautner Project.
In 2003, Nicole joined Women & Philanthropy, a 30-year-old affinity group that worked to increase women's leadership in the philanthropic sector and increase philanthropic dollars to programs addressing the critical needs for diverse communities of women and girls. There, Nicole managed the program portfolio and also served as the organization's representative for the Joint Affinity Group (JAG) – a collaborative of identity based affinity groups working to pursue more equity for diverse communities. Then, with a desire to take her work back to a local level, in 2008, Nicole joined the staff of Washington Area Women's Foundation – the region's only foundation dedicated exclusively to increasing the economic security of economically vulnerable women and girls.
At The Women's Foundation, Nicole managed the foundation's donor education work, grantee partner technical assistance and capacity building, and the foundation's collective giving programs – including the foundation signature community-based grantmaking program, the Leadership Awards. Nicole also oversaw the Foundation's two giving circles: the Rainmakers Giving Circle and the African American Women's Giving Circle, and was one of the founding members of KINDRED, an African American LGBTQ giving circle. Nicole also served on the board of directors for Funders for LGBTQ Issues, as well as on the Capacity Building Funders Group, and Partnership for Prince George's County.
In 2010, Nicole was the staff lead in the development of the organization's strategic plan which marked the transition of her role at the foundation from exclusively programmatic to one that included organizational development and operations, including human capital management. Cultivating excellence among staff and maintaining an organizational environment where staff could thrive was a core priority. This ultimately led Nicole to the role of Chief Operating Officer (COO). As second in command, Nicole managed internal operations for The Women's Foundation and the development and cross-organizational implementation of the organization's strategic goals.
Nicole holds an MBA and MS from Temple University, as well as an honors bachelor's degree from the University of Toronto. A resident of the metro Washington area for more than 16 years, Nicole has also lived in Philadelphia, New Jersey, USVI, Canada and Barbados. She currently lives in Northern Virginia with her wife and daughter.
https://mission.partners/wp-content/uploads/2018/02/NEC-headshot-e1518027425116.jpg
335
335
Bridget Pooley
https://mission.partners/wp-content/uploads/2017/11/mp-logo-dark-300x107.png
Bridget Pooley
2018-02-07 12:53:14
2018-02-07 15:51:04
Nicole Cozier