Episode 7: Decolonizing Wealth in Big Philanthropy with Edgar Villanueva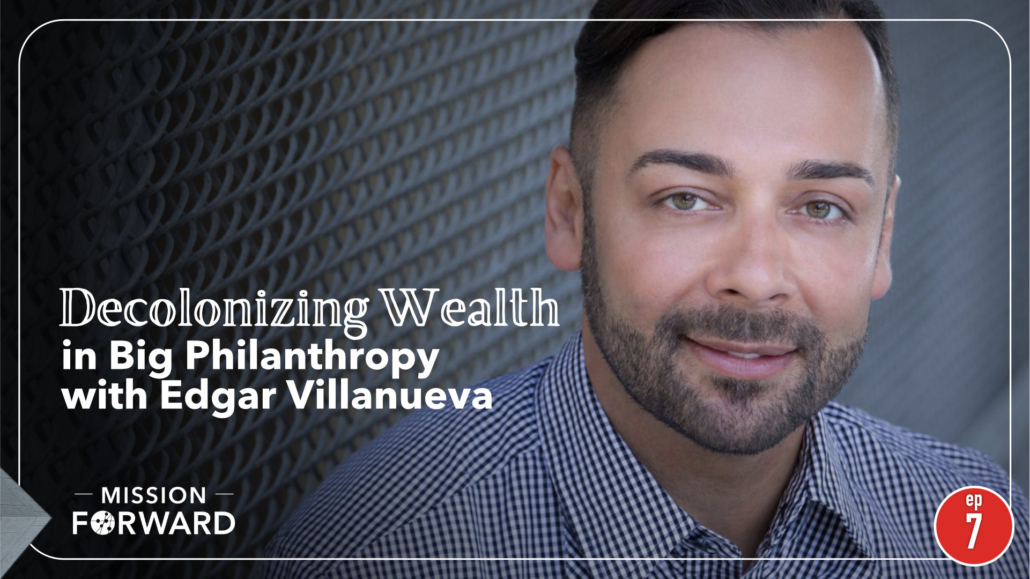 Edgar Villanueva is a southerner. He's a North Carolinian. He was raised in the church. He's also a member of the Lumbee Tribe of North Carolina, and as such, was the only Native American in his K-12 education experience.
"When I got to the University of North Carolina, I was so hungry to connect with other native students. I began to understand there that there were things about my world view and my perspective that were unique to being Native American."
Somewhere between his Native heritage and his disarming Southern charm, Edgar has developed a muscle for speaking truth to power with love (his fantastic words, not ours), and no where is that more apparent than in his work in institutional philanthropy, an industry ripe for change.
In his best-selling book, Decolonizing Wealth: Indigenous Wisdom to Heal Divides and Restore Balance, Edgar takes us on tour of the philanthropic industry that carries the baggage of colonial structures designed to stifle the voices of equity through a veneer of altruism. Philanthropy is an exercised of "dividing Us from Them and the haves from the have-nots," says Edgar.
This week on the show, Edgar shares with us 14-year exploration of Big Philanthropy, and his healing and compassionate solutions to an industry mired in systemic imbalance. He shares the experience of grappling with issues but not having language to have the conversations we need to have, and his work to help others develop vernacular to help and to heal.
Most important, he offers us insight to his efforts not just to discuss these issues, but to change an industry through Liberated Capital: A Decolonizing Wealth Fund.
Rooted in relationships of mutuality and equity, Liberated Capital gives through a reparations model that trusts and supports the leadership of those most impacted by historical and systemic racism. The fund welcomes support from individuals at all levels of giving who are committed to collectively healing the wounds of colonialism and white supremacy by using money as medicine to shape an equitable future.
Anyone can join and take part in the mission of Decolonizing Wealth through Liberated Capital, and we here at Mission Partners are proud to be a part of this movement through our own donation this month. Our great thanks to Edgar for his time and support of this show. We're proud to be in orbit of the work of this organization.
Links & Notes
https://mission.partners/wp-content/uploads/2020/11/mp_7-e1618236428428.jpg
675
1200
Pete Wright
https://mission.partners/wp-content/uploads/2017/11/mp-logo-dark-300x107.png
Pete Wright
2020-11-09 05:00:26
2020-11-09 06:46:07
Episode 7: Decolonizing Wealth in Big Philanthropy with Edgar Villanueva