Episode 6: Breaking Bias in Storytelling with Ed Yong and Liz Neeley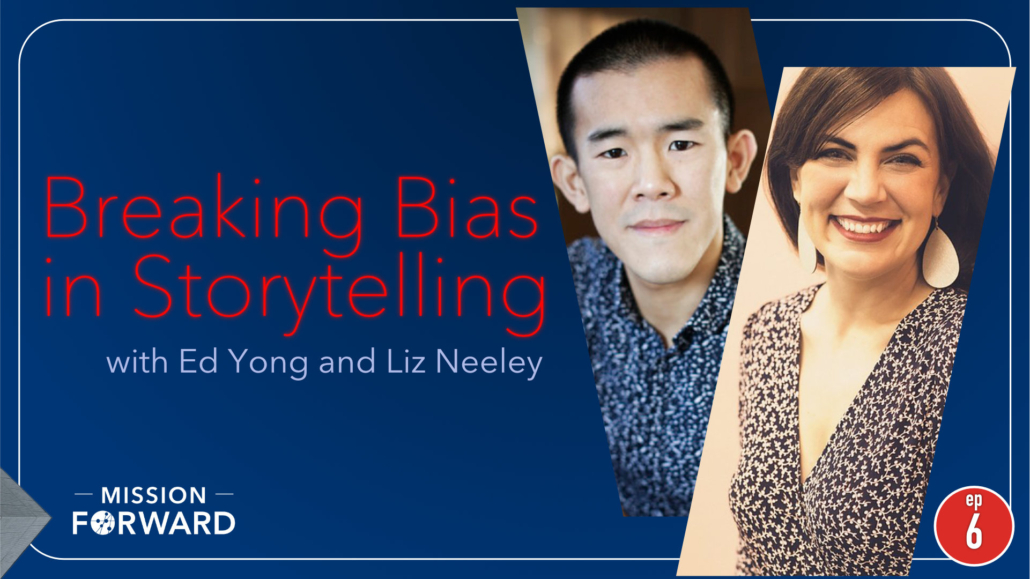 Since starting the Mission Forward conversation series in 2014, we've had the opportunity to interview some amazing folks: Pulitzer Prize-winning writers, MacArthur Genius grantees, media entrepreneurs, and philanthropists. One of our favorite conversations to date has been with Ed Yong and Liz Neeley. It took place in 2018, shortly after Ed wrote a story in the Atlantic titled: "I Spent Two Years Trying to Fix the Gender Imbalance in My Stories Here's What I've Learned, and Why I Did It."
As an acclaimed author and science writer, Ed was a big deal then, but he's had quite a run these last few years. This past September, his story on the COVID-19 pandemic, "How Did it Come to This?" took the cover spot of The Atlantic magazine, and since that time, he's published several other articles on COVID 19 including his most recent: "America Is About to Choose How Bad the Pandemic Will Get."
Given how much we value Ed Yong — and how straightforward he can make even the most complex science story — we decided to resurface this great conversation from a few years back, about building equity and breaking bias in storytelling.
In that 2018 story about gender imbalance in his reporting, Ed found that only 24 percent of his last 23 articles quoted sources that were women. And of those stories, 35 percent featured no female voices at all. As Ed shared in his article:
"I knew that I care about equality, so I deluded myself into thinking that I wasn't part of the problem. I assumed that my passive concern would be enough. Passive concern never is."
Yong's heartbreakingly honest revelation, and several others like it, spurred our desire to dig in on ways that writers, marketers, and communications directors can build equity and break bias in their storytelling, and his story has stuck with us for many years.
But it wasn't just Ed who we spoke with in 2018. We were joined by his partner, the brilliant Liz Neeley, founder and principal of Liminal Creations, where she focuses her time and talent on science communication. Liz served as Executive Director of The Story Collider through August of this year, shepherding real and deeply personal stories of science and living through on-stage events and their eponymous (and extraordinarily popular) podcast. Together, they had a lot to say on the topic of equity in storytelling.
Liz Neeley and Ed Yong are extraordinary people and exceptional journalists and communicators. We love this conversation and we're sure that you will, too.
Links & Notes
https://mission.partners/wp-content/uploads/2020/10/mp_6-e1618236477353.jpg
675
1200
Pete Wright
https://mission.partners/wp-content/uploads/2017/11/mp-logo-dark-300x107.png
Pete Wright
2020-11-02 05:00:00
2020-10-30 17:46:48
Episode 6: Breaking Bias in Storytelling with Ed Yong and Liz Neeley