Episode 5: Modeling the Future of News with The Markup's Nabiha Syed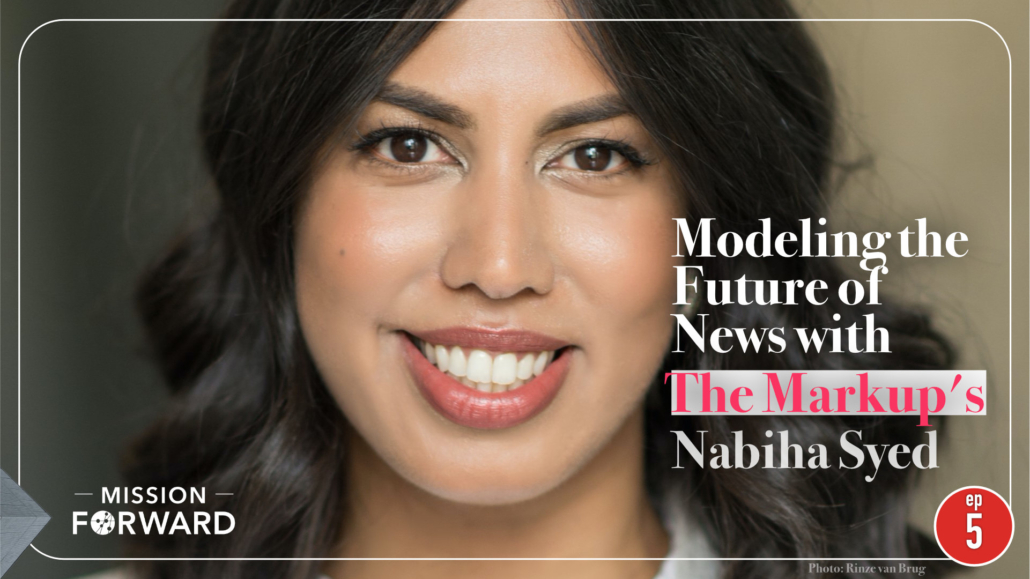 Nabiha Syed is the President of The Markup. Just what is The Markup, you ask? If this is your introduction to The Markup, we stand as both disheartened that you're not already a regular reader yet delighted that we may serve as your guide by way of this week's show.
The Markup, an investigative journalism startup that explores how powerful actors use technology to reshape society, which, if you've never explored the pages of the publication, might sound like a bite far too big for any publication to take. And yet, what we hope you discover in our conversation this week, this approach is not only a standard readily achievable, but with the right tools and an eager team, it can serve as a standard-bearer for other institutions of the fourth estate to follow.
It turns out that beyond the top-notch journalistic chops, central to The Markup's DNA is a dedication to developing and releasing the same data analytics investigative tools used by their reporters. This transparency in the process allows the publication to report news that is, as Syed calls it, "bulletproof." And you can get in on the action.
Take Blacklight, for example. This Markup service asks you to input any web address you frequent and will report back the user-tracking technologies that access information about you through your computer and your behavior while using it.
Why would they need such a tool at the news site? Because data — and how it moves through our economy — is part of the main story of the Anthropocene. The Markup has invested equally in technology tools and data journalists as it has invested in traditional investigators. The results show in every story.
That's why we're so lucky to have Nabiha Syed on the show this week. We talk about what it means to exist in the journalism space, and about building a news organization bespoke for us, our modern age, and dedicated to the modern information perils that stand before us.
Links & Notes
About Nabiha Syed
Previously, she was Vice President and Associate General Counsel at BuzzFeed. As the company's first newsroom lawyer, she oversaw litigation, including the "Steele Dossier" litigation, as well as select intellectual property, security, international, and cross-company strategic initiatives. Nabiha has been described as "one of the best emerging free speech lawyers" by Forbes magazine.
Before BuzzFeed, Nabiha was an associate at Levine Sullivan Koch & Schulz, a leading media law firm, and the First Amendment Fellow at The New York Times. She has worked on legal access issues at Guantanamo Bay, Cuba; represented asylum-seekers in south Texas; counseled on whether to publish hacked materials; and spoken about misinformation at the inaugural Obama Foundation Summit. For her work, Nabiha was named a "40 Under 40 Rising Star" by the New York Law Journal in 2016, a finalist for the Outstanding Young Lawyer of the Year Award from the International Bar Association in 2017, and received an inaugural Reporter's Committee for the Freedom of the Press award in 2018. She holds a law degree from Yale Law School and from Balliol College, Oxford University, which she attended as a Marshall Scholar.
https://mission.partners/wp-content/uploads/2020/10/mp_5-e1618236523709.jpg
675
1200
Pete Wright
https://mission.partners/wp-content/uploads/2017/11/mp-logo-dark-300x107.png
Pete Wright
2020-10-26 05:00:08
2020-10-23 20:16:29
Episode 5: Modeling the Future of News with The Markup's Nabiha Syed