Episode 4: Narrative Change with Anand Giridharadas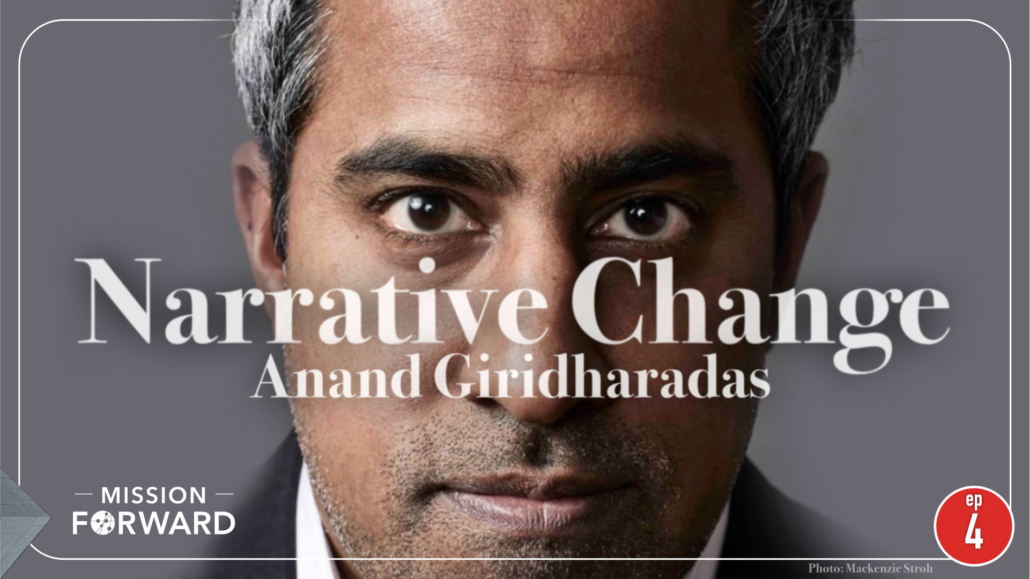 Anand Giridharadas is a writer who walks headlong into the storm of corporate institutional power. His latest book, "Winners Take All: The Elite Charade of Changing the World," is a rebuke of the "unelected upper crust" and their efforts to lobby and influence in the face of our public institutions.
It is not a particularly rosy portrayal of the function of our institutions.
In so writing, however, Giridharadas has become something of a cheerleader for the systems and services institutional wealth has eroded. His call for corporate citizens to stop thinking in terms of doing good, and instead focus on doing less harm is one that the next generation appears to be internalizing. For that, he has hope.
Even as this conversation was recorded three years ago, it could have been held today. To hear just how consistent — and doggedly persistent — Giridharadas is, we invite you to read this piece from Business Insider documenting a recent talk for which he served as a keynote. The audience, the National Association of Corporate Directors. His talk, according to the writer in his newsletter The Ink, "went very well or very badly depending on whether you're a corporate board member." In short:
A lot of your children and grandchildren do not respect your work. Some of them say this to you, some of them don't. But we know this from public attitudes. You know this from survey data. There is a sense among younger people coming of age in the most diverse, open-minded generation in American history that what their parents and grandparents did in corporate boardrooms near broke America.
And if for no other reason than to have a less awkward Thanksgiving this year with your relatives, try to get on the right side of history.
Read the whole thing here. But first, please join us for this conversation on the challenge — and yet the inevitability — of serving our collective civic duty if we're to navigate our way through this generational challenge toward equity.
Links & Notes
https://mission.partners/wp-content/uploads/2020/10/mp_4-e1618236567896.jpg
675
1200
Pete Wright
https://mission.partners/wp-content/uploads/2017/11/mp-logo-dark-300x107.png
Pete Wright
2020-10-19 06:00:53
2020-10-16 16:56:02
Episode 4: Narrative Change with Anand Giridharadas